frayadjacent posting in

vidding
Title
: Electric Lady
Fandom
: Steven Universe
Vidder
:

frayadjacent
Song
: Electric Lady (edited for length) by Janelle Monáe
Summary
: Watch the water turn to wine
Premiered at VidUKon 2017
Download, streaming, and content notes here


vidderkidder posting in

vidding
Vidders.net's Cat(alog)
One of the issues with the Vidders.net network is that there are so many vids on the network that it can be hard to find just the one you are looking for. There is now a very user friendly Cat(alog) that will begin to populate with some of the amazing vids on the network by vidders such as Balistik, Luminosity, Charmax, Thedothatgirl, and many more. There are just about 4 right now but we plan on adding about 1,000 more to the collection but it will not be overwhelming as you will be able to search by Vidder, fandom, musical, artist, etc and find what you are looking for very easily.
This catalog can be viewed both inside and outside the network (so you can get a sense of the vids there). If you are not a member you can view at the following Google site link
Vidders Catalog
(to view the videos you will have to log into the site to see them). We'll update as we get closer to our 1K goal.
Yes, I shamelessly used the word Cat as an abbreviation for Catalog. The audience for Cats is far larger than Vidding even in a community discussion for Vidding so I hope you understand.
We plan to expand this project and create other catalogs to include other collections of awesome vids.
If you have any questions send me a private message or if you think it's a question others reading this can benefit from leave a comment.

shinyjenni posting in

vidding
Title:
Confident
Fandom:
Ghostbusters (2016)
Music:
Demi Lovato
Content notes:
Some bright flashes and fast cuts
Summary:
You can't make me behave.
View and download here


starlady posting in

vidding
title: Halfway Away
source: Yuri!!! on Ice
audio: CHVRCHES, "Clearest Blue"
summary: "While you were being heterosexual, I studied the blades on ice." -- @viktorbottom
Or, Victor and Yuuri meet each other halfway, every time.
Premiered at

vidukon_cardiff
2017.
tumblr
|
AO3
|
Dreamwidth


purplefringe posting in

vidding
title
Dedicated Follower of Fashion
fandom:
Star Trek: Deep Space Nine
characters:
Elim Garak
music:
Dedicated Follower of Fashion by The Kinks
summary:
Garak is just a simple tailor
link:
Dreamwidth
/
LiveJournal


vidderkidder posting in

vidding
Vidding Network -
Vidders.net free streaming vid network for vidders. AO3 Certified Host. Absolutely brilliant vids not available anywhere else. Lots of cool features and some new ones in the works.
Vidders.net
. If you have any questions message me.


Vidding Project -
Looking for a collaborator on some vidding community projects. You don't have to have any special skills. Just a passion for vidding and by extension working on vidding related projects. If you are interested message me.


aralias posting in

unconventionalcourtship
It's late, but it's back -
Welcome to 'Unconventional Courtship 2017'!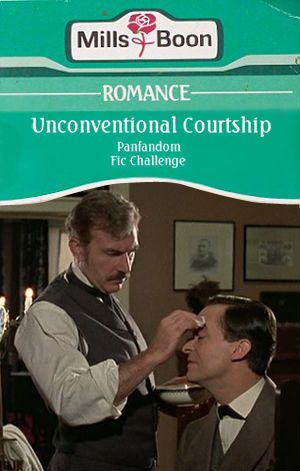 'Unconventional Courtship' is a panfandom fic fest where you write and post a 1000w+ fic based on a M&B/Harlequin plot. Fics will be posted to this community, staggered through August and September 2017, from 18th August.
How to play:
It's as simple as:
1. Sign up! All you need to do is comment on this post with the day you want to post your fic. You can tell me which summary/pairing you're going with, but you don't have to. You can also ask me to assign you a summary, if you want. (You don't need a Dreamwidth to play - just comment with OpenID, although you will need to ask me to post your fic on the com. If you are on DW, please follow the community!)
2. Choose a M&B/Harlequin summary (or two etc) - we have hundreds of suggestions
here
, but there are literally thousands. Our
prompt generator
may also help (thank you

john_amend_all
) You can write more than one fic, if you want. You can also combine prompts, if you like.
3. Replace the names (and pronouns if necessary) with the names (and pronouns) of the pairing of your choice. Any any all fandoms and pairings are welcome in this fest.
You can also replace place names
and
jobs as long as you keep to the spirit of the prompt. So, if you want to write Kirk/Spock, but you don't want to write a modern day AU, you could replace 'the Sahara desert' with 'a desert planet' and Kirk wouldn't need to be the boss at a law firm, he could be the boss... in the sense that he's the captain.
4. Write a fic based on your altered summary. You can take the prompt seriously or use it as an improbable basis for lols.
4.5.
Pimp the fest far and wide.
I'm hardly going to do this at all, so it's up to you - the players! I've
re-uploaded the make-your-own banners
and of course you can use
any that I've already made.
But please do pimp where ever you think would be appropriate.
5. Post the fic to this community on your assigned day.
You can also post to
our AO3 collection
, but please post to the com whatever you do, and please post to the com
first
.
You can see some examples of Unconventional Courtship fic by looking through the collection, or earlier in the com.
6.
Profit!
Fics for all! I'll post a masterlist once all the entries are in. Crossposting is encouraged.
Any questions? Leave a comment or PM me or email me at heroic.tendencies@gmail.com
( Rules )
( Days for posting )
If you have questions, feel free to ask! And/or consult the
FAQs from last year, which are still mostly accurate.

sholio posting in

vidding
Title:
What You Wanted
Music:
OneRepublic
Movies:
Guardians of the Galaxy 1 & 2
Summary:
It's a big, beautiful galaxy full of loss and loneliness and love.
Links:
Dreamwidth
|
AO3
|
Tumblr
|
Youtube
Title:
Holy
Artist:
Frightened Rabbit
Movies:
Guardians of the Galaxy 1 & 2
Summary:
Parenthood is about much more than DNA, and the broken places make us human. Focused on Peter and his various relationships with his family.
Links:
Dreamwidth
|
AO3
|
Tumblr
|
Youtube
Neither vid contains any warnings beyond the contents of the movies. Both contain spoilers for GotG Vol. 2.


chaila posting in

vidding
Title
: I Am the One Who Will Remember Everything
Video
: Harry Potter
Music
: Dar Williams
Notes
: Premiered at the Wiscon 41

wiscon_vidparty
.
"Come over here, kid, we've got all these books to read." Professor Minerva McGonagall, memory, war, resistance and hope.
Streaming, download and Tumblr links at my journal